Study Group on Language and the United Nations.


---
FINAL REPORT OF OUR 2018 SYMPOSIUM
"Multilingualism in International Organizations and International Co-operation"
(May 10 & 11, 2018, at 777 United Nations Plaza, NYC)
REPORT AND CONCLUSIONS OF OUR 2017 SYMPOSIUM
"Language, the Sustainable Development Goals, and Vulnerable Populations"
(May 11 & 12, 2017, at 777 United Nations Plaza, NYC)
---
We are a group of scholars and professionals interested in
how the language policies of the United Nations work in practice,


how people at the UN use language and make choices among languages, and


how the UN communicates linguistically with people outside the organisation itself.
On this site you will find a bibliography of relevant books, articles and resource materials, and information about past and upcoming events organized by our group!
We hope to add further materials as they become available. We are interested in hearing from others with similar interests to our own and we invite you to join our group.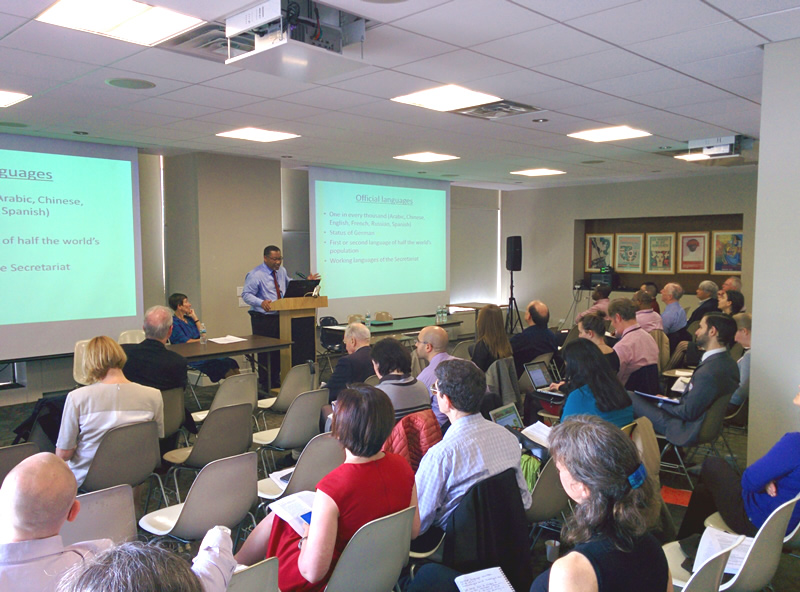 Speaking during our 2016 Symposium:
Michael Ten-Pow (Senior Advisor on Multilingualism, DGACM, United Nations).
Sitting next to him:
Keynote Speaker Suzanne Romaine.